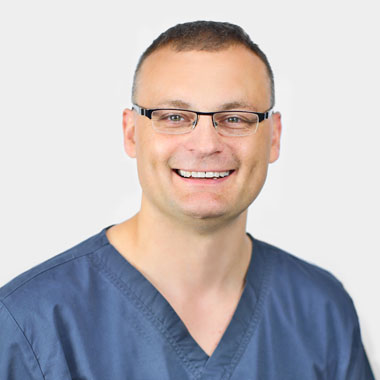 Dr Grzegorz Olszewski has 15 years of experience in implantology.
3,000 implant procedures performed.

He graduated from the Medical University of Gdansk and international universities: the prestigious Implantology Curriculum at the University of Frankfurt. In 2016/2017 he completed postgraduate training at the Mediterranean Prosthodontic Institute in Spain and at the University of North Carolina in Chapel Hill.

He has participated in many trainings in the scope of implantology, endodontics, periodontology and prosthetics. He is a member of PTE and PSSM. Since 1998 he has been running his own dental practice, where he has been performing implantological procedures since 2003.

Implantology is one of the most innovative and dynamically developing fields of dentistry. The implantology success rate is high. The long-term effect of the procedure is a result of the great knowledge and experience of our team with Dr Grzegorz Olszewski at the head and high quality of materials used.
Have you got any questions?
You want to make an appointment?
Call us:
Tel: (58) 668 00 01
Gdynia, ul. Parkowa 6/1E